Planning to introduce 20 vessels by 2028
On October 26, NYK took delivery of the LNG-fueled pure car and truck carrier (PCTC) Sweet Pea Leader at Tadotsu Shipyard Co., Ltd., a member of the Imabari Shipbuilding Group. The vessel had been ordered by NYK from Nihon Shipyard Co., Ltd. and is NYK's seventh LNG-fueled PCTC. NYK will introduce a total of 20 new LNG-fueled PCTCs by 2028 as a bridge-solution to achieve net-zero emissions of greenhouse gas (GHG) by 2050 for the NYK Group's oceangoing businesses.

Like NYK's other LNG-fueled PCTCs, the vessel was named after flowers with the desire to realize and pass on a healthy global environment through environment-friendly transportation.

NYK has established "Sail GREEN" as the company's brand to emphasize NYK's efforts to reduce GHG emissions through the transport of goods and contribute to the eco-friendly supply chains of customers, regardless of the mode of transport (e.g., by sea or land, through terminals, etc.). Completion of this vessel is an initiative of that brand.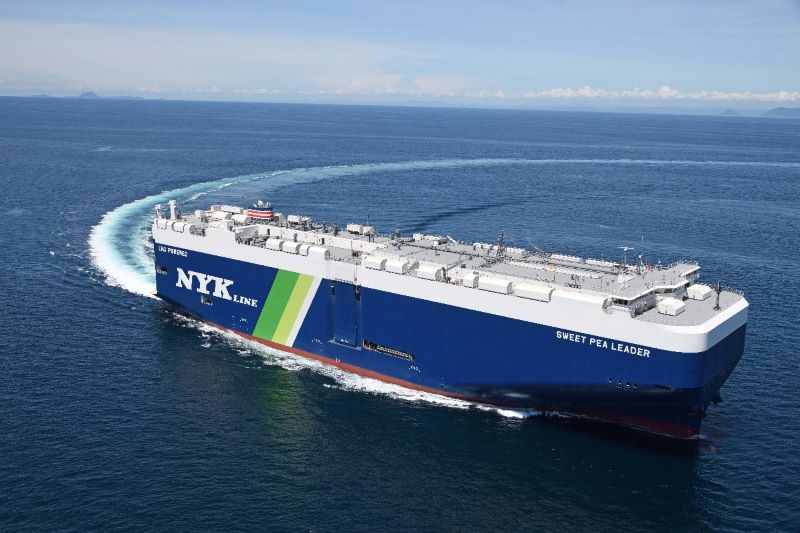 Sweet Pea Leader
Vessel Particulars
Name: Sweet Pea Leader
LOA: 199.90 m
Beam: 38.00 m
Loadable Cargo: 7,000 units
Gross Tonnage: 77,644 tons
Year Built: 2023
Flag: Liberia




On March 10, 2023, the NYK Group released its medium-term management plan "Sail Green, Drive Transformations 2026 — A Passion for Planetary Wellbeing. " The NYK Group is promoting growth strategies with ESG at the core, based on the Group's mission statement of "Bringing value to life" and a new corporate vision for 2030, which reads, "we go beyond the scope of a comprehensive global logistics enterprise to co-create value required for the future by advancing our core business and growing new ones."