Contributing to the facilitation of vehicle transportation logistics
On June 30, NYK acquired a 25% stake in PT. Patimban International Car Terminal ("PICT"), a car terminal operator based at the Indonesian port of Patimban. The shares were acquired from Toyota Tsusho Corporation, and registration was completed on August 18.

The port of Patimban is 120 kilometers east of the Jakarta city center and has been under construction in stages since 2018. The terminal was capable of handling 220,000 vehicles per year in 2022, and expansion is underway to increase capacity to 600,000 vehicles per year.

Tanjung Priok, another international port located in the Jakarta metropolitan area, has become chronically congested due to increased cargo volume. In addition, traffic congestion on the roads connecting the port and the Eastern Industrial Park in the eastern part of Jakarta, where many Japanese companies are located, has caused delays in importing and exporting auto parts and finished vehicles. The full-scale operation of the port of Patimban is expected to solve these problems.

Through our equity participation in PICT, we will be able to provide optimal logistics services to our customers, including vehicle and construction equipment manufacturers entering the Indonesian market, and contribute to developing the Indonesian economy.


PITC Overview
Name: PT. Patimban International Car Terminal
Establishment: November 2021
Details of Business: Operation of car terminal
Date of Share Acquisition: June 30, 2023
Stockholders: Toyota Tsusho Corporation Group (34%)
Toyofuji Shipping Co., Ltd. (26%)
NYK (25%)
Kamigumi Co., Ltd. (15%)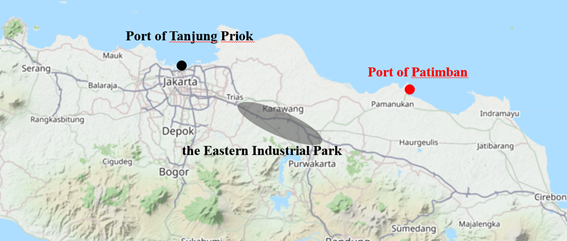 Locations(Resource: OpenStreetMap)

On March 10, 2023, the NYK Group released its medium-term management plan "Sail Green, Drive Transformations 2026 — A Passion for Planetary Wellbeing. " The NYK Group is promoting growth strategies with ESG at the core, based on the Group's mission statement of "Bringing value to life" and a new corporate vision for 2030, which reads, "we go beyond the scope of a comprehensive global logistics enterprise to co-create value required for the future by advancing our core business and growing new ones."