Wild Rose Leader, NYK's fourth LNG-fueled pure car and truck carrier (PCTC), entered the ports of Nagoya on May 10 and Yokkaichi on May 15 for the first time. On the same days, commemoration ceremonies were held at each port and attended by related parties to celebrate the vessel's arrival and wish it a lifetime of safe voyages.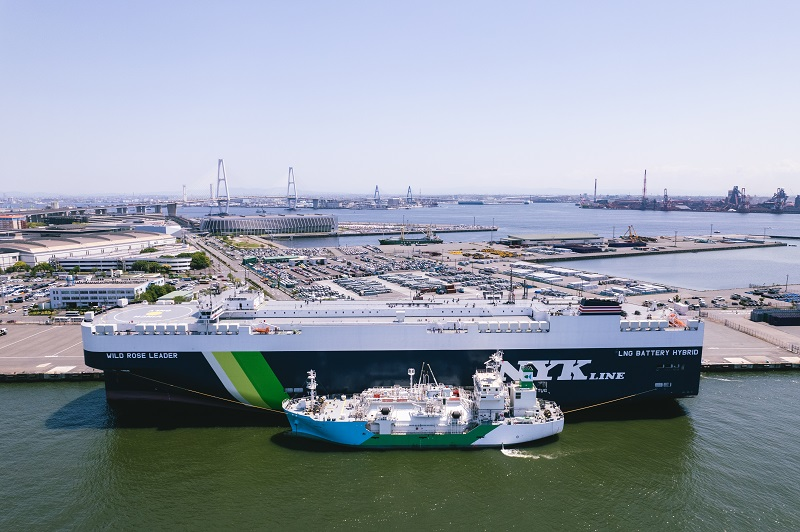 Wild Rose Leader is the second of four vessels to be delivered from China Merchants Jinling Shipyard (Nanjing) Co. Ltd. 2 and was given the name of a flower to emphasize NYK's desire for its LNG-fueled PCTCs to pass on a healthy global environment through environment-friendly transportation.

The day after entering the port of Nagoya, the vessel received LNG fuel from Kaguya, an LNG bunkering ship operated by Central LNG Marine Fuel Japan Corporation, which is a joint venture owned by NYK and other partners. This was the first ship-to-ship LNG bunkering to ever occur at Nagoya port.

On May 12 at the port of Nagoya, the vessel loaded vehicles and equipment handled by Isewan Terminal Service Co., Ltd.,3 and on May 15 at the port of Yokkaichi , the vessel loaded vehicles made by Honda Motor Co., Ltd.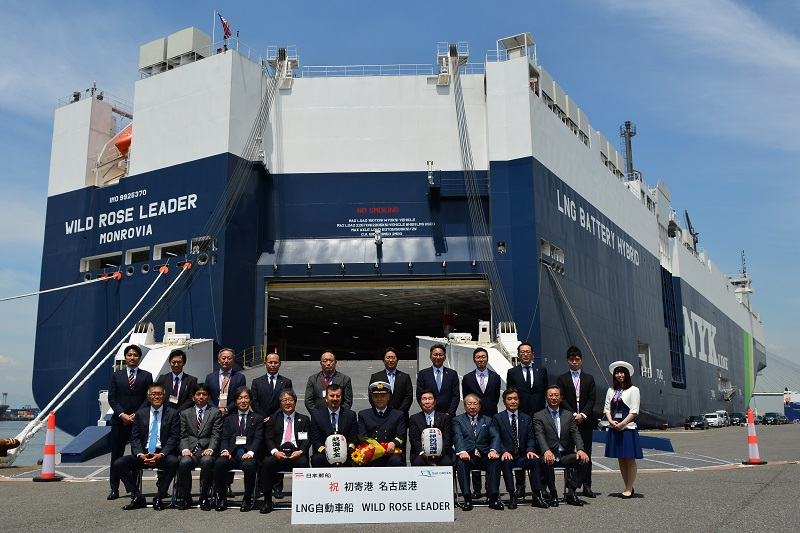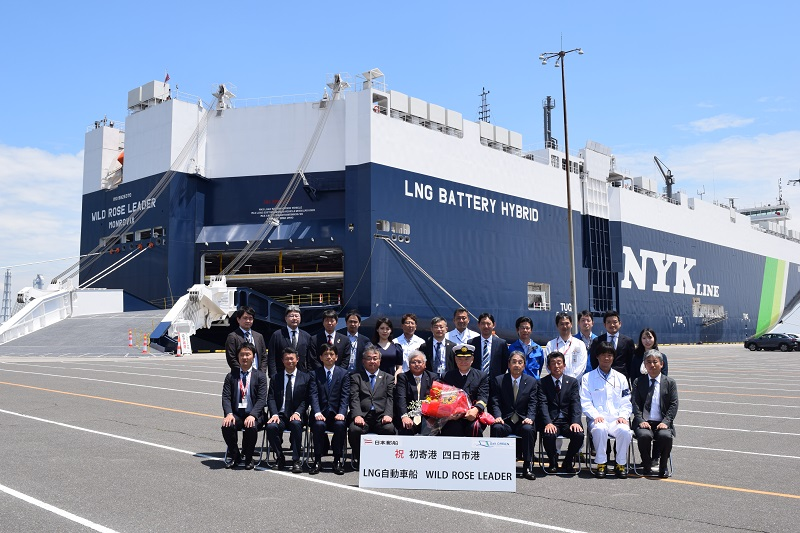 NYK continues to contribute to safe, stable transportation and promote decarbonization in its supply-chains through its environment-friendly fleets.
Vessel Particulars
Name: Wild Rose Leader
LOA: 199.90 m
Beam: 38.0 m
Loadable Cargo: 7,010 units
Gross Tonnage: 71,846 tons
Year Built: 2023
Flag: Liberia
On March 10, 2023, the NYK Group released its medium-term management plan "Sail Green, Drive Transformations 2026 - A Passion for Planetary Wellbeing. " The NYK Group is promoting growth strategies with ESG at the core, based on the Group's basic philosophy of "Bringing value to life" and a new corporate vision for 2030, which reads, "we go beyond the scope of a comprehensive global logistics enterprise to co-create value required for the future by advancing our core business and growing new ones."

NYK has set a long-term target of net-zero emissions of greenhouse gas (GHG) by 2050 for the NYK Group's oceangoing business and aims at launching zero-emission ships that run on low-environmental-load marine fuels, such as ammonia or hydrogen, in the future. NYK is positioning LNG, a low-carbon marine fuel, as a bridge-solution until future zero-emission ships are realized. The company plans to take delivery of a total of 20 new LNG-fueled PCTCs by 2028 under the Sail GREEN4 brand.