To transport finished vehicles for Toyota.
On July 24, Freesia Leader, the fifth LNG-fueled pure car and truck carrier (PCTC) operated by NYK, arrived at the port of Nagoya in Aichi Prefecture for a commemorative delivery ceremony that was held on the same day to celebrate the vessel's arrival and pray for its safe voyage.

After arriving at the Port of Nagoya, the vessel received LNG fuel from Kaguya, an LNG-bunkering ship operated by Central LNG Marine Fuel Japan Corporation,* a joint venture owned by NYK and other companies.

The ship is the third of four LNG-fueled PCTCs constructed by China Merchants Jinling Shipyard (Nanjing) Co. Ltd.** The new PCTC was named after the freesia flower in the hope of realizing and passing on a prosperous global environment through eco-friendly transportation.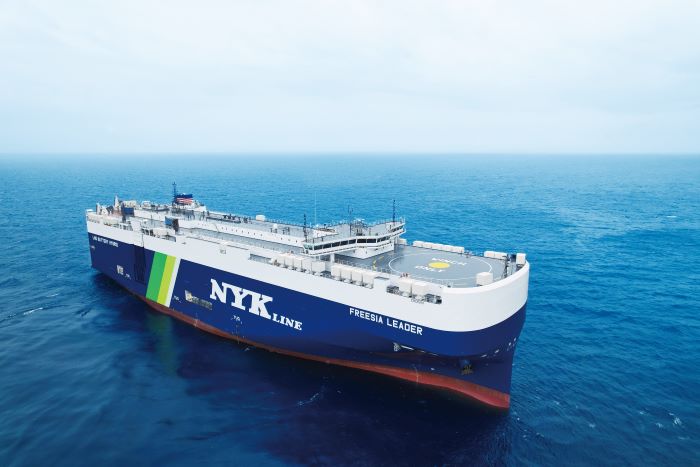 Freesia Leader will be engaged in the transportation of finished vehicles for the Toyota Motor Corporation and other customers seeking to reduce their environmental impact in logistics.

Vessel Particulars
Name: Freesia Leader
LOA: 199.90m
Beam: 38.0m
Loadable Cargo: 7,000 units
Gross Tonnage: 71,846tons
Year Built: 2023
Flag: Liberia
On March 10, 2023, the NYK Group released its medium-term management plan "Sail Green, Drive Transformations 2026 — A Passion for Planetary Wellbeing. " The NYK Group is promoting growth strategies with ESG at the core, based on the Group's mission statement of "Bringing value to life" and a new corporate vision for 2030, which reads, "we go beyond the scope of a comprehensive global logistics enterprise to co-create value required for the future by advancing our core business and growing new ones."


NYK has set a long-term target of net-zero emissions of greenhouse gas (GHG) by 2050 for the NYK Group's oceangoing business and aims at launching zero-emission ships that run on low-environmental-load marine fuels, such as ammonia or hydrogen, in the future. NYK is positioning LNG, a low-carbon marine fuel, as a bridge-solution until future zero-emission ships are realized. The company plans to take delivery of a total of 20 new LNG-fueled PCTCs by 2028 under the Sail GREEN*** brand.
* Central LNG Marine Fuel Japan Corporation (head office: Kawagoe-cho, Mie Prefecture), founded in May 2020, is a joint venture company comprising NYK, Kawasaki Kisen Kaisha, Ltd., JERA Co., Inc., and Toyota Tsusho Corporation. The company operates Kaguya, Japan's first LNG bunker vessel. Website: https://central-lng.com/en/

** China Merchants Jinling Shipyard (Nanjing) Co. Ltd.
Headquarters: Nanjing, China
Business: Shipbuilding
Website: http://jlshipyard.sinotrans-csc.com/col/col4261/index.html

*** Sail GREEN is a brand that emphasizes NYK's efforts to reduce GHG emissions through the transport of goods and contribute to the eco-friendly supply chains of customers, regardless of the mode of transport (e.g., by sea or land, through terminals, etc.).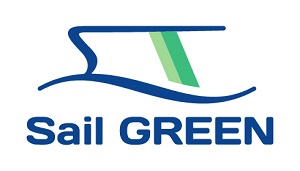 ※Click logo to obtain more details.
NYK's PCTC Fleet Composition Transition Plan (2020–2050) (as of March 2022)